Med SPA CENTRE
Aquaterra MED SPA
The right approach to solve any problem in the matter of a beautiful and healthy body and face! .
For more information or to make an appointment please contact us:
bd. Decebal 6/4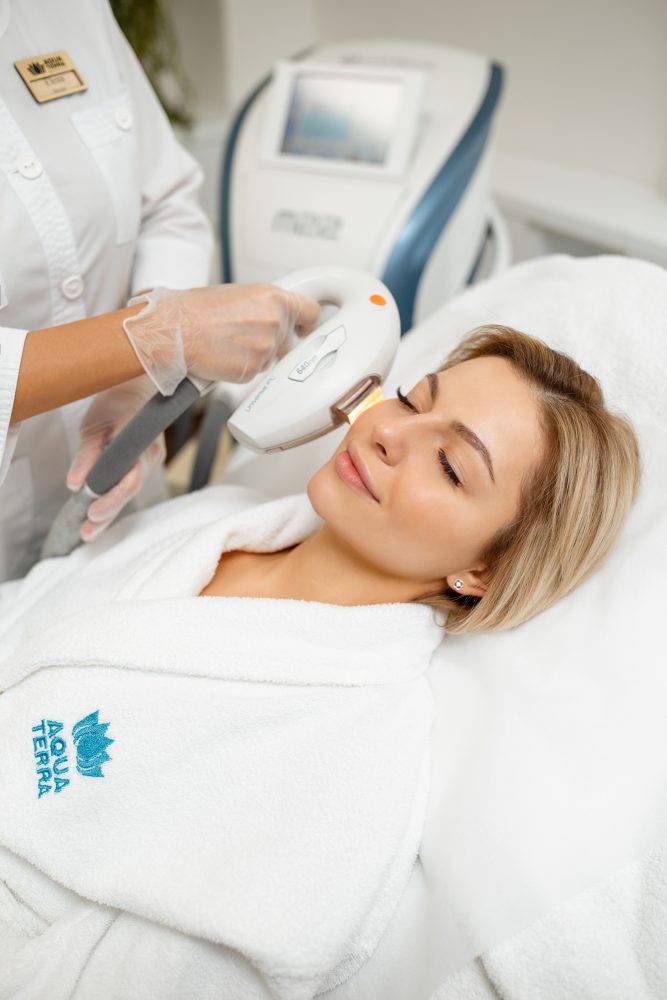 Cosmetology
The Aquaterra Center of Aesthetic Medicine offers you a wide range of face and body care procedures. Our services start with body procedures and end with several types of peels, perfect for a healthy and young complexion. Facial and body procedures are the perfect solution for efficient and quality care.

Cavitation Imperium

Non-surgical liposuction-destruction of fat deposits.
Recent scientific developments allow using ultrasound to destroy fat cells, which are then harmlessly excreted from the body with blood and lymph flow. The most modern method of eliminating local fat deposits in problem areas, cellulite treatment and smoothing skin irregularities!

The recommended course of 4-7 procedures for one problem area 1 time a week.

30 min - 30 c.u.

Pressotherapy

The procedure stimulates the lymph flow, with the help of which the breakdown products of fat cells are excreted from the body. Therefore, pressotherapy is recommended after cavitation to accelerate the results.

40 min - 15 c.u.

Myostimulation

Passive muscle training without load on the musculoskeletal system. A great treatment for burning fat, strengthening muscles and giving a beautiful contour to Your body. A weak electric current transmits signals to the muscles, causing them to contract, as during training. Myostimulation is especially suitable For you if you sit for a long time and perform little exercise.

The recommended course of 10 treatments 2-3 times a week.

40 min - 15 c.u.

Radio wave lifting Imperium (body)

The latest unique technology of rejuvenation and non-surgical lifting of legs and abdomen, arms, neck and other areas of the body using active RF-pulses. Pulses heat the skin and start the natural process of formation of new collagen fibers, renewing the skin and rejuvenating it.

Recommended course 5-10 procedures 1 time in 3-4 weeks

40 min - 25 c.u.

Hardware face lifting LPG

Pleasant and comfortable face and neck lifting procedure, giving Your face the correct oval shape. Effectively eliminates double chin, reduces puffiness, reduces the appearance of wrinkles and improves the complexion. Your skin becomes elastic and radiant again, you are charming and confident!

The procedure is performed on the original device using the patented technology "Cosmechanika" from the world-famous company LPG-the world leader in the market of cosmetic equipment for modeling and correction, cellulite treatment and rejuvenation.

30 min - 15 c.u.

Ultrasonic facial peeling

Completely painless procedure that effectively cleanses the skin without injuring it. Removes dead skin cells, tightens pores, removes the oily sheen and improves complexion. Suitable for all skin types.

30 min - 20 c.u.

Radio wave lifting Imperium (face)

The latest unique technology of rejuvenation and non-surgical facelift using active RF-pulses. Impulses stimulate blood circulation, warm up tissues, contribute to the reduction of collagen fibers, providing a lifting effect. At the same time, the procedure starts the natural process of formation of new collagen fibers, renewing the skin and rejuvenating it.

Recommended course: 4-6 procedures 1 time in 3-4 weeks.

45 min - 25 c.u.

Cosmetic care

A must-have procedure for any woman who always wants to look great! After a special diagnosis, our professional beautician will choose the type of care That your skin needs:

lifting,
anti-age (rejuvenating) care,
care for oily and problem skin,
skin care with hyperpigmentation and rosacea;
care for sensitive skin.

Recommended frequency of procedures 1 time per week

from 35 c.u.

Cosmetic care by Academie / ZO SKIN by Zein Obagi

from 40 c.u.

Mechanical cleaning of the face

Deep and at the same time delicate cleansing of the face using a special gel that opens the pores. It will help to get rid of black spots on the skin and prevent the appearance of acne, keeping the skin beautiful and healthy. Facial cleansing is recommended before the course of rejuvenating procedures.

90 min – 35 c.u.

Facial Massage

18 c.u.

Chemical Peel

from 40 c.u.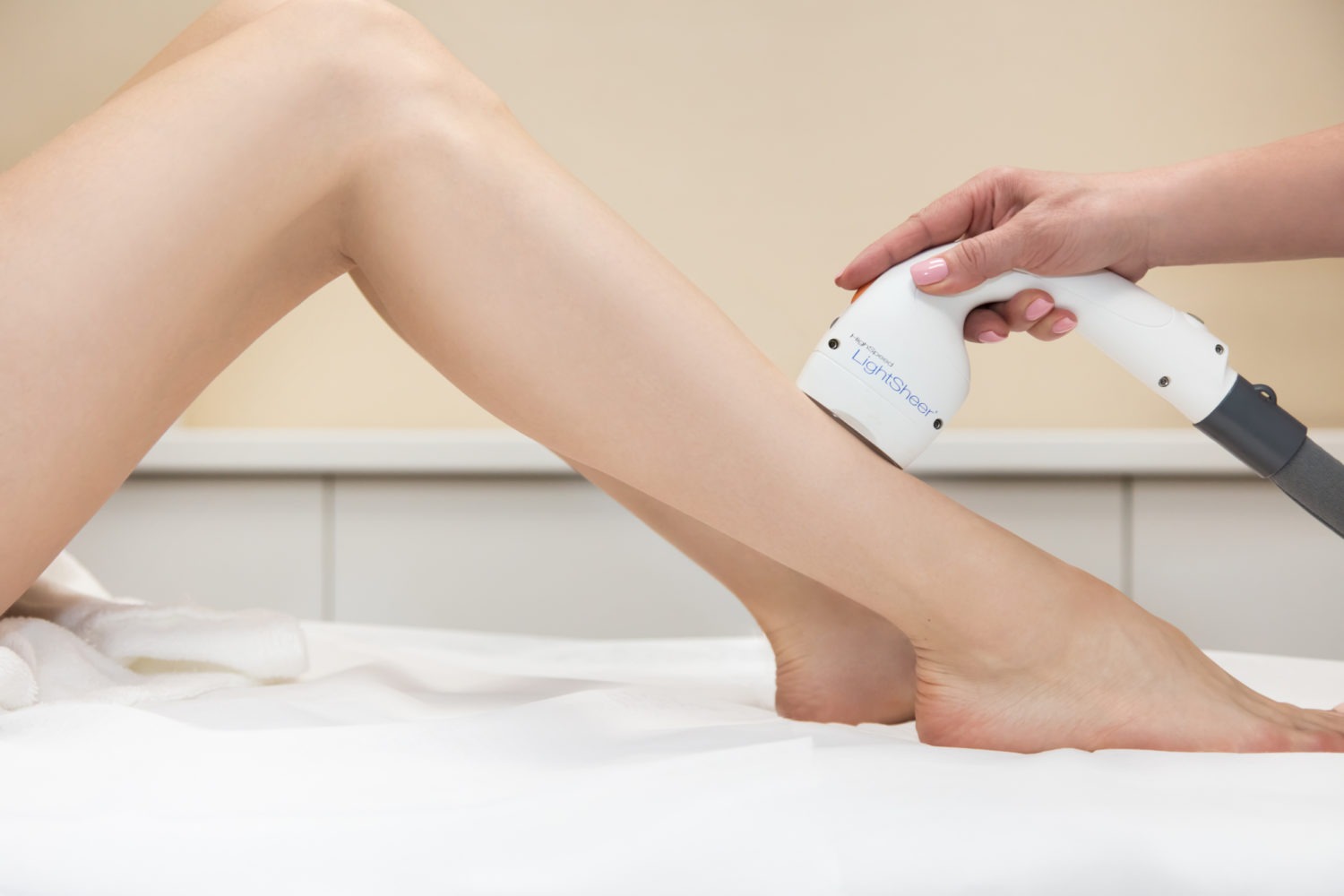 Laser Сosmetology
One of the most modern methods of combating and eliminating body and facial defects is laser cosmetology. Our services consist of laser hair removal, laser regeneration, removal of pigment spots and scars, acne treatment, diagnosis and removal of neoplasms. The Aquaterra Center of Aesthetic Medicine offers you all the possibilities to get rid of the problems that bother you in terms of body and appearance. Eliminate the flaws that give you headaches and get a nice look with Aquaterra!
Laser Hair Removal

Lumenis LightSheer Duet

–  permanent hair reduction with exciting speed and amazing comfort. Its advanced technology reduces pain while increasing efficacy, enabling fast and comfortable treatments for patients.

It is considered the Gold Standard with vacuum-assist technology and by dramatically increasing the spot size to 22 x 35 mm. The

Lumenis LightSheer

enables You to treat backs and legs comfortably in only 15 minutes, making hair removal profitable without anesthetics and gels.

THE ADVANTAGES OF THE Lumenis LIGHTSHEER DUET

Two stationary attachments simplify and greatly shorten the procedure for maximum health safety.
High-speed technology (HS handpiece) shortens treatment time.
The vacuum module (High Speed ​​technology) does not require contact cooling and the use of anesthesia.
The procedure can be performed regardless of the season.
The procedure can be performed on any skin phototype
The complete course is 6 to 8 procedures.

We recommend to make 6-8 procedures every 6-8 weeks.

Armpits – 23 Euro
Bikini line – 36 Euro
Brazilian Bikini – 45 Euro
Shins  – 60 Euro
Legs –  86 Euro (86/113/130)
Back  – from 68 Euro (68/86/113)
Chest – from  50 Euro (50/68)
Hands – from 45 Euro (45/63)
Mustache – 14 Euro.

All about Lumenis M22 Laser System

Lumenis M22 Laser System

With extensive experience in the design and manufacture of IPL machines and laser systems, Lumenis has created a unique platform with maximum efficiency and the highest level of safety. Lumenis M22 consists of different modules, each of which forms a high-tech device, and the entire M22 platform can replace a laser cosmetology clinic!

With the help of a laser system, you can simultaneously perform:

treatment of deficiencies and dermatological problems;
solving visual and aesthetic imperfections: restoring and leveling the skin tone, improving its elasticity, narrowing the pores, removing wrinkles, removing excess hair.

The application area of ​​M22 is very large. Lumenis M22 procedures and actions are absolutely safe – the surrounding tissues remain intact.

IPL module M22
Directions:

IPL hair removal;
removal of tangled veins;
rosacea treatment;
removal of pigment spots;

By improving the microcirculation of lymph and blood, photoregeneration triggers the synthesis of new collagen in fibroblasts, which stimulates skin regeneration, as a result, with each subsequent procedure, your skin will become more elastic and fresh.

The principle of action of Lumenis 22 IPL is selective photothermolysis. The procedure depends on the wavelength and acts on a specific skin chromophore. It could be a pigment or a blood vessel. At the same time, the surrounding tissues remain intact and intact. If we consider the effect of a laser on a blood vessel, then the beam only coagulates the walls of the blood vessel itself, which will not grow anymore.

ResurFX module ™ M22
This module is used for non-ablative fractional photothermolysis for a delicate treatment. With ResurFX ™, you can eliminate facial wrinkle lines, pigmentation, minor aesthetic imperfections and improve your skin and skin tone. Due to its wide range of settings, ResurFX ™ is even suitable for restoring the periorbital area. At the same time, the procedure is distinguished by a short rehabilitation period.

Laser Facial Regeneration

If aging, acne, or too much time in the sun has left your face with blotches, scars, wrinkles, or lines, laser skin resurfacing may help your skin look younger and healthier.

Laser skin resurfacing removes skin layer by layer with precision. The new skin cells that form during healing give the skin a tighter, younger looking surface.

Laser removal

Laser removal of pigmentation, blood vessels, spider veins on the face and body

Effective treatments against acne

Qualified specialists and advanced devices Aqua terra Med SPA will help you in the fight against acne, as well as with the removal of scars and post-acne scars.

Removal of moles, skin tags, warts and lesions

Special devices in Aqua terra Med SPA will help in the qualitative diagnosis and removal of tumors (moles, warts, papillomas, etc.).

from 10 c.u.

Skin Rejuvenation with Non-Ablative Fractional Laser

zone from 75 c.u.

Laser Removal of Pigmentation and Blood Vessels

impulse from 0,70 c.u.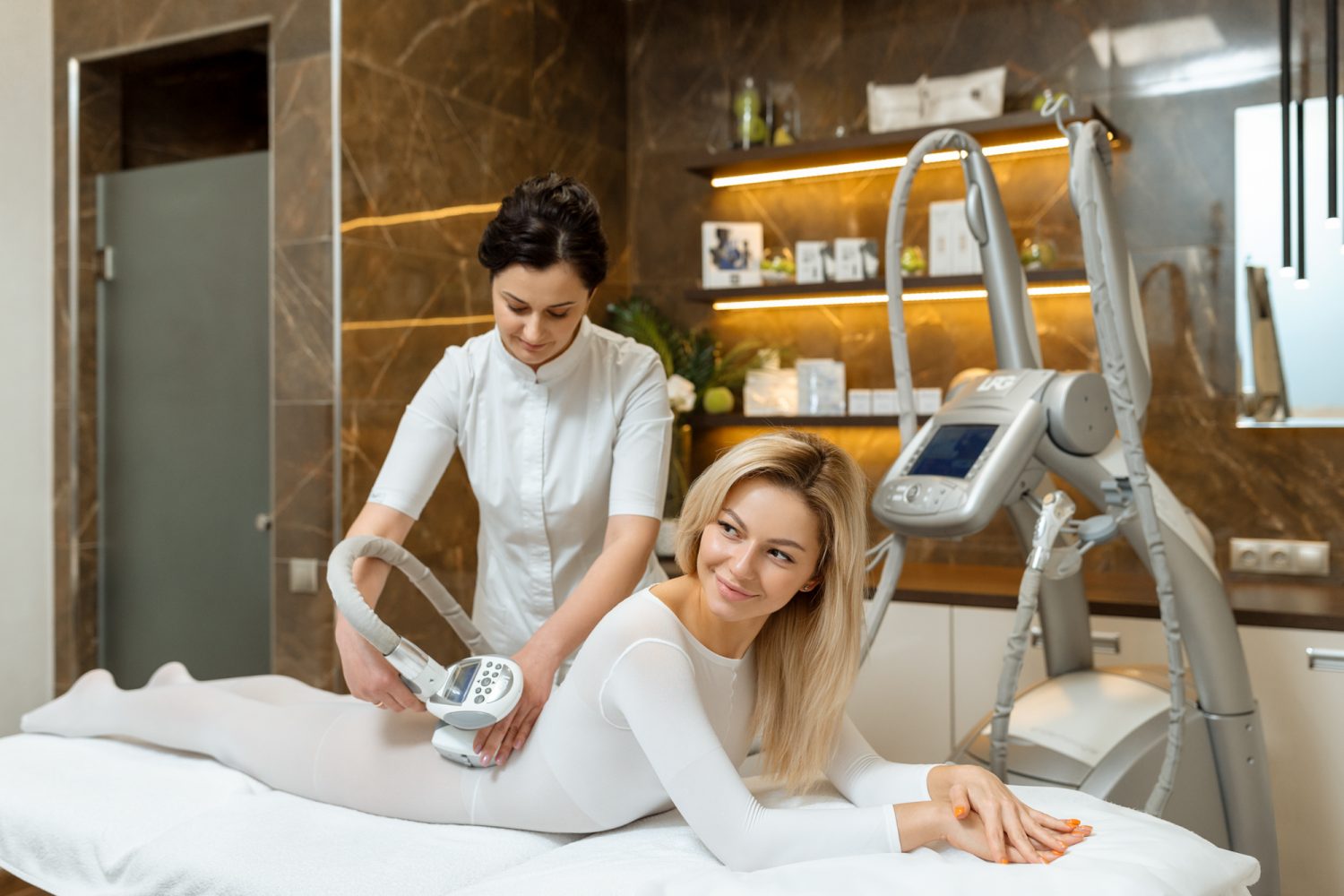 AESTHETIC MEDICINE
The Aquaterra Center of Aesthetic Medicine uses modern methods to correct facial and body defects, giving you the opportunity to get the body you have long dreamed of. Here are the procedures you can benefit from in our center: mesotherapy, bio revitalization, body remodeling, and 3D lifting. and etc. All this is meant to help you create a pleasant and rejuvenated look. The results will not belong in coming, as the medical techniques used in Aquaterra demonstrate the vast experience of our specialists
Mesotherapy

Mesotherapy is a technique that uses injections of vitamins, enzymes, hormones, and plant extracts to rejuvenate and tighten skin, as well as remove excess fat.

Today, mesotherapy is used to:

Scalp – from 50 c.u.
Face – from 150 c.u.
Body Mesotherapy for Cellulite Treatment – 50 c.u. zone 

The technique uses very fine needles to deliver a series of injections into the middle layer (mesoderm) of skin. The idea behind mesotherapy is that it corrects underlying issues like poor circulation and inflammation that cause skin damage.

Biorevitalization

Biorevitalization is the revitalization of skin in a biological way by returning the life to skin. This is a non-surgical and widely applied way to fight skin ageing and various skin problems in aesthetic medicine.

This technique was discovered by Italian scientists. During the procedure, the skin is injected with small doses of pure hyaluronic acid of non-animal origin. Hyaluronic acid is the main structural element of connective tissue. It stimulates many important processes in human organism.

Hyaluronic acid maintains moisture in skin. One molecule combines 200-500 molecules of water by maintaining the balance of moisture in tissues. Such obvious role of hyaluronic acid in skin moisturizing ensures the youth of skin.

from 190 c.u.

Body Shaping

Contouring – this procedure is carried out by introducing into the skin gels-fillers (fillers) which are widely used to perform the following cosmetic procedures: the fight against wrinkles, filling the volume of tissue, changing the shape of the lips, the elimination of aesthetic defects of the face and body.

from 185 c.u.

3D Lifting

Лифтинг 3D-мезонитями – это новая косметологическая методика для армирования кожи. Это система, состоящая из инъекционной иглы-проводника и самой нити, которая закреплена на остром конце иглы. Постепенно нити рассасываются, распадаясь на привычные для организма элименты – воду и углекислый газ.

from 6 c.u.

Treatment of Hyperhidrosis

from 2,5 c.u. (unit)

Wrinkles Removing with Botulinum Toxin

from 4 c.u. (unit)

ULTRAFORMER

An innovative approach to beauty!
ULTRAFORMER is the latest discovery in the field of cosmetology, which allows you to revive the youthfulness of the skin without a scalpel, surgeon's hands and pain.

The main advantages of the Ultraformer III:

High safety of the procedure
Combination of micro and macro focused ultrasound (MMFU)
Ability to work with both face and body
More pronounced face and body lifting due to high power
Effective lipomodelling of the body and face
Variety of cartridges
Painless
Lack of rehabilitation period
Recognized and used by the leaders of the global beauty industryMore information – ULTRAFORMER 

COST (indicated in c.u.):
Face – 500
Lower third of the face – 290
Middle third of the face ( cheeks) – 200
Eyes – 170
Neck – 335
Forehead – 200
Zone (2 chin) – 170
Belly – from 250
Body over the line – 0,6
Face per line – 1

FOTONA 4D

Fotona4D is a groundbreaking non-surgical face lifting procedure resulting in a rejuvenated, natural-looking appearance.

Advantages of Fotona4D:

– Tightening and volumization without the need for fillers or toxins
– A full lifting treatment from the inside out
– Immediate rejuvenation, tightening and glow
– Improved skin complexion
– Little or no downtime
– No surgery, needles or anesthesia

MORE INFO: HERE

COST (indicated in c.u.):

Fotona 4D (face): 90 min./350 c.u.
SmoothEye: 60 min./ 120 c.u.
VectorLift: 60 min./ 100c.u.
Liplase: 45 min./ 80c.u.
Genesis: 45 min./ 75c.u.
Hair Restart: 45 min./ 60c.u.
Tight Sculpting: 30 min./ 75c.u.

Biologique Recherche

 Biologique Recherche – is a brand exclusively serving beauty professionals, with a promise of effective and personally tailored skincare treatments. Built around the expertise of estheticians and an advanced understanding of skin physiology, it has extended its scientific know-how by developing a unique treatment methodology that combines new targeted products with specific techniques.

MORE INFO: HERE / 069 757 775

COST – 1835 MDL

BR SEBO-REGULATING TREATMENT
BR SOIN LIFT C.V.S.
BR SOIN LOTION MC 110
BR SOIN RESTRUCTURANT & LISSANT